US Ambassador to the United Nations Nikki Haley has vowed to "unquestionably veto" a UN draft resolution calling for an international mission to protect Palestinian civilians in the Gaza Strip. There is speculation the resolution, sponsored by Kuwait, could be up for vote Friday.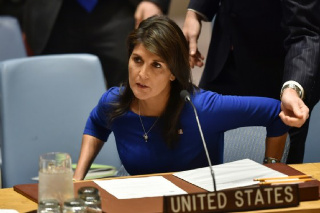 In the past two months, Israel has violently cracked down on public protests by Palestinians along the Gaza border, killing at least 122 and wounding over 13,000 others. The US already blocked an initial effort calling for a UN force in Gaza.
This watered-down version calls on UN Secretary-General Antonio Gutteres to consider possible measures to guarantee the safety and protection of Palestinian civilians. Haley says the resolution is a threat to the peace process.
Haley further said the resolution was "morally bankrupt" and "grossly one-sided" in only criticizing the Israelis for killing so many protesters and not condemning the "provocative" protests themselves.
The US had already offered a competing resolution insisting all the people Israel killed were the fault of Hamas and Islamic Jihad. This resolution was blocked by Kuwait, and is unlikely to ever get enough support to come to a vote.