Capping off two days of high profile meetings with North Korea's Kim Yong Chol, Secretary of State Mike Pompeo says "real progress" has been made toward a deal that would allow for a summit between Kim Jong-un and President Trump.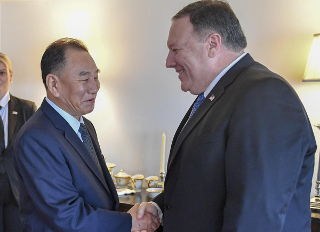 Pompeo said that after a series of meetings he believes the talks are going in "the right direction." The North Korean delegation is heading to Washington D.C., where they will deliver a letter to President Trump from Kim.
Trump also said he viewed the Pompeo talks as a positive step, and that he "looks forward" to seeing what the letter says. US officials, however, have yet to make it clear if the summit will take place, or even offer a timetable for making such a decision.
The summit was previously scheduled for June 12 in Singapore, but President Trump cancelled it last week. Officials have since said that the summit might still happen, and could even conceivably happen as previously scheduled. With just two weeks left before that date, a later date may also have to be considered.