General Electric (GE) is ending all offers to sell of oil and gas equipment to Iran, following President Trump withdrawing from the P5+1 nuclear deal in early May, and reimposing sanctions which forbid US companies doing business there.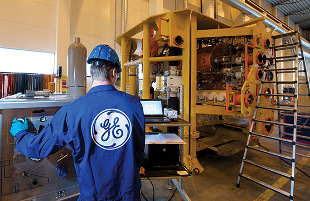 GE's American parent company was not generally doing direct business with Iran in the first place. Rather, the deals were reached by the company's mainly foreign subsidiaries, with around $150 million in bids under discussion.
The deals aren't being killed entirely. Rather, those deliveries the GE subsidiaries can make before November 4 are expected to be completed. Further bidding will not be accepted. It's unclear how much business this will cost the company, but it's substantial, as Iran was looking to revamp a lot of its aging energy infrastructure.
Since the rest of the nations are still in the P5+1 deal, Iran will likely be able to seek alternative sources for such contracts. France's Total S.A. and Germany's Siemens would be likely candidates, though both have slowed down Iran efforts, expressing concern about US punishment for them.
Reticence among EU companies means Russian and Chinese companies will, as in most things, have an advantage in bidding for big Iranian projects, as companies in those nations appear to be more confident their respective governments will continue to follow the nuclear deal.