During a Wednesday teleconference with reporters, Gen. John Nicholson, the top US commander in Afghanistan, revealed that the Taliban and Afghan government have been secretly negotiating a possible ceasefire.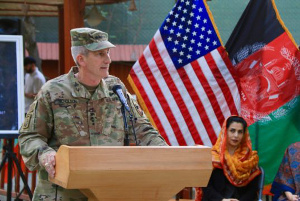 Nicholson said all meetings were in secret, and depended on "confidentiality of the process." Given that, it's not clear what impact his comment will have itself on the process. Since President Trump ruled out participating in such talks with the Taliban, it may be an intentional attempt to harm the confidentiality of the process.
The general added that the talks included mid and senior-level Taliban officials. It's not clear how long talks have been ongoing, but President Ghani proposed peace talks in late February. The Taliban have not confirmed the talks, but have offered talks since Trump ruled them out.
Gen. Nicholson further complained that the Taliban is trying to both fight and talk at the same time, likening the situation to the FARC peace effort in Colombia. He tried to take credit for the talks with increasing US attacks, saying they were driving the Taliban to negotiate.