While the US State Department denied reports that they had reached a deal with Turkey on jointly expelling the Kurdish YPG from the Syrian city of Manbij, they did appear to confirm that such talks are still ongoing, and heading in that direction.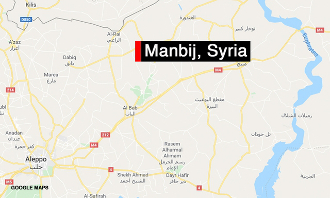 Turkey has long demanded that the Kurds be expelled from Manbij, and since the US agreed to talks on Manbij has suggested that's what would ultimately happen. The State Department confirmed talks ith Turkish officials last week on the idea.
Kurdish officials have yet to respond to the report, but Turkish FM Mevlut Cavusoglu suggested that if the deal works, they and the US could expand the scheme to all of northern Syria, which is to say all of the Kurdish territory.
The US has long aligned itself with the Kurdish YPG in Syria, angering Turkey. While the US has long tried to keep both sides placated, it would be a dramatic shift to suddenly turn on the Kurds and expelling them.
Local officials in Manbij aren't worried though, saying they believe talks of suddenly being replaced by a US-Turkish joint military rule are "premature." No US or Turkish officials have offered details on how the city would be managed, though in the past Turkey has just given occupied Kurdish lands to Arab rebel factions.