As President Trump says there is a "substantial chance" that the North Korea summit would be postponed from June 12, North Korea says that it is entirely up to the US to decide. North Korea's statement said the US should decide if they want to "meet us at a meeting room or encounter us at nuclear-to-nuclear showdown."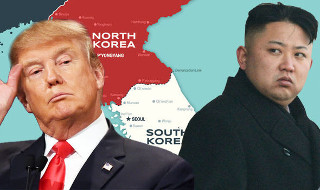 In recent weeks, the summit has fallen into doubt, centered around US talk of a "Libya model," and North Korean anger at joint US-South Korea war games conducted near their border. South Korea has talked the US out of further such exercises.
On Monday, Vice President Mike Pence again talked up the Libya model, saying it wasn't a threat but "more of a fact." He made these comments despite Trump having disavowed the Libya model comments previously made by hawkish John Bolton.
North Korea didn't take too kindly to this either, and in the course of today's statement, Vice Foreign Minister Choe Son Hui said he "cannot suppress my surprise at such ignorant and stupid remarks gushing out from the mouth of the US vice-president."