At least 55 people were killed and scores of others wounded in a series of Taliban attacks across Afghanistan, starting with a double-suicide bombing Monday morning in the capital city of Kabul. The strikes hit near NATO's headquarters.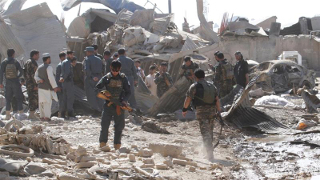 25 were killed and 45 wounded in Kabul. In the neighboring Ghazni Province, the Taliban carried out attacks on police forces, killing at least 14 police, including a district commander, and wounding 12 others. They stormed several checkpoints.
Further south, in Kandahar, security forces found a van packed with explosives. They failed to defuse it, and the ensuing explosion killed at least 16 people and wounded 38 others. Officials say they also recovered weapons and suicide vests in the same area, and believe the militants were planning a big attack against shoppers near the end of Ramadan.
The Taliban's attacks are on the increase because of the spring offensive. They are believed to have been responsible for Kabul and Ghazni. Though there has yet to be any claim of responsibility for the Kandahar deaths, that city is the Taliban's homeland.