Saying they believe the US and North Korea have "some kind of difference in stances" ahead of the June 12 summit, South Korea has issued a statement offering to serve as mediator for the talks, and various other channels.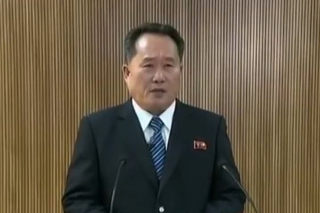 South Korea's Blue House has issued a statement saying they've discerned "North Korea's position and attitude," and are interested in talking to the Trump Administration as a way of preparing for the summit.
North Korea doesn't seem to be on board with that idea, however. Their chief negotiator, Ri Son Gwon, issued a statement Thursday criticizing South Korea as "ignorant and incompetent." He said there would be no new talks with South Korea until there are some understandings reached.
North Korea had made substantial diplomatic progress with both the US and South Korea in recent months. A recent US-South Korea war game, however, has raised some questions in the minds of the North Korean leadership. Since the backlash is heavier against South Korea than the US, it's unlikely that the North is going to welcome the South as a mediator by June 12 without a major last minute rapprochement.