Tens of thousands of civilians have been displaced from Yemen's coastal province of Hodeidah, as pro-Saudi forces invaded the area with an eye toward eventually seizing the last port held by Shi'ite Houthi forces.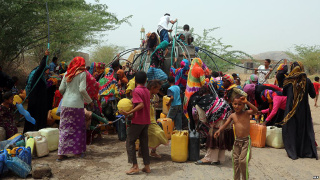 The civilians say they were facing terrifying mortar attacks, with rockets flying overhead and landmines ripping people to shreds. Amnesty International is reporting that the worst is yet to come, however, for the entire nation, as this offensive worsens.
That's because as the last Houthi port, Hodeidah is the lone source of humanitarian aid for roughly half of the country. That makes it a "strategic target," but the fall of the port also means that half of the country, the half already on the brink of starvation and recovering from a record large cholera epidemic, will be under even tighter siege.
A number of aid groups have warned against attacking Hodeidah, on the grounds it could lead to the deaths of millions. With the war largely stalemated elsewhere pro-Saudi forces have advanced into the area anyhow, expecting control of the port to tilt the war decisively in their favor.