Orders for a recount in the Iraqi city of Kirkuk, and talk of a nationwide recount of Saturday's vote may both be derailed, as efforts in Kirkuk have ground to a half. Gunmen are now sieging the voting stations within Kirkuk, trapping staff within.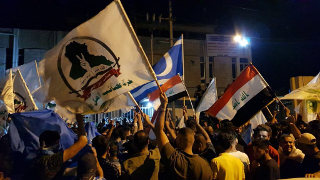 Commission head Riyadh al-Badran said the gunmen have turned the sites into hostage situations. While he didn't identify who they were, he said that the gunmen were calling on the commission to change the results of the election.
Initial results in Kirkuk showed the Patriotic Union of Kurdistan winning the province. Arabs and Turkomen in the area claimed irregularities, sparking a manual recount. A number of the ballot boxes have not been counted, however, because of the sieges preventing election workers going places.
Badran still said he expects to have final figures on the province within two days, despite the gunmen. Such hostages situations might become a growing problem if the recounts are expanded nationwide, as Prime Minister Hayder al-Abadi has suggested. Abadi is unhappy with his third place finish, and has suggested manual recounts are necessary.