Specifics on the plan to try to save the P5+1 nuclear deal with Iran after President Trump withdrew the US have been slow coming. Actually finding a way to keep the US from proactively killing the pact with sanctions is going to require a lot of resistance, particularly from EU countries.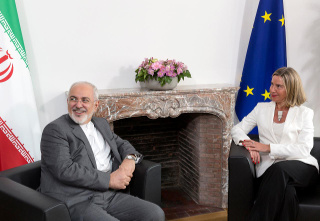 Iranian Foreign Minister Javad Zarif appeared optimistic, saying that he believes Europe has made a good start, and that they believe they are on the "right track." Actually securing the deal's survival, Zarif said, will take weeks of additional planning.
He offered few specifics, but EU diplomatic chief Federica Mogherini was a big more specific, saying that proposals to save the deal included shielding EU banks from US sanctions, using EU funding to finance deals, and continuing to buy Iranian oil and gas.
Mogherini added that the efforts to salvage the deal were going to be "very difficult," and would involve Europe significantly deepening economic ties to Iran. Protecting European companies from US sanctions is clearly a major part of this effort, if it is to get anywhere.