US African Command (Africom) is promising an investigation on Friday, following complaints from tribal elders near Afgoye, in Lower Shabelle about civilian deaths in a Wednesday night raid. Officials had previously denied any civilian deaths.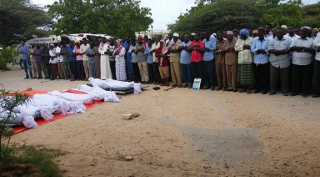 One tribal elder was quoted as saying that the attack killed five banana farmers from the area, wounded several others, and that three civilians were captured alive by Somali forces and taken away in attack helicopters.
It is common for the Somali government to insist that its raids only killed al-Shabaab fighters, even with overwhelming evidence to the contrary, and it tends to take weeks or even months before they change their position.
Villagers from the area brought the dead civilians to Mogadishu, and are refusing to bury them until the government admits they were civilians killed in a US-backed offensive. This has happened in the past, and the military has ultimately relented in the face of public pressure.