The Saudi-backed Yemeni army took control of the town of al-Bareh, west of Taiz, earlier this week. The fall of this town is less important than what comes next, as the army draws ever closer to the key port city of Hodeidah.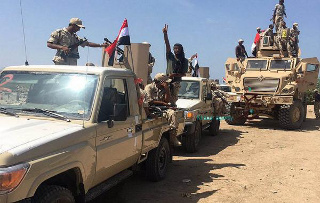 Hodeidah is the lone seaport under the control of the Shi'ite Houthi movement, and by extension is the only port through which humanitarian aid can flow for the entire northern half of the country. A vital humanitarian location, which to pro-Saudi forces is a vital military target.
Successfully conquering Hodeidah would, after all, mean the Houthi territory, including the capital city and many millions of people, would have no access to food or medical aid. This would be an opportunity for the Saudi invading force to really crack down on them.
They envision it forcing a surrender, but it may also could bring millions of malnourished people into outright starvation. This is a known fact, with the UN special envoy warning about this for weeks. Still, Saudi officials have been desperate to break the stalemate in the war, and have also shown little concern for the consequences to civilians.