ISIS suicide bombers carried out a pair of attacks during rush hour Monday morning in the Afghan capital city of Kabul, killing at least 29 and wounding dozens of others. The strikes were in the Shash Darak area of the city.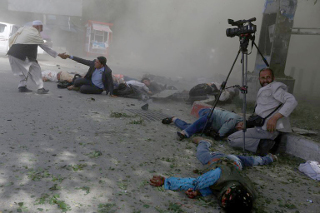 The strikes hit near Afghanistan's main spy agency, the National Directorate of Security (NDS). The first strike hit close to the building, and the second bomber struck the same site a half hour later, killing journalists and medical workers.
All told, ten journalists were killed in the attacks, including a BBC reporter and an AFP photographer. Reports suggest the second bomber had actually disguised himself as a journalist to infiltrate into the site.
This is the latest in a growing series of ISIS bombings around Afghanistan. Though the ISIS affiliate in Afghanistan is relatively small compared to some others, they've shown an ability to organize and carry out major attacks, and Afghan government security has shown no ability to prevent them.
Last 5 posts by Jason Ditz