A suicide car bomber attacked a NATO convoy in the southern Afghan city of Kandahar on Monday, killing 16 people. The attack took place in front of a school, and at least 11 of the slain were children inside the school.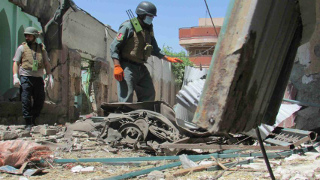 Also slain were five Romanian troops, who were on patrol with the convoy at the time of the attack. Officials have yet to attribute responsibility for the attack to any specific faction. ISIS carried out attacks in Kabul on Monday, but Kandahar is generally more Taliban-heavy territory.
This is the second time Romanian forces have suffered casualties in the past year. In September, one Romanian soldier was killed and two other soldiers were wounded in a car bombing at the Kandahar airport.
US commander Gen. John Nicholson downplayed the "cowardly actions" on Monday, insisting NATO would remain committed militarily to Afghanistan. Romanian officials issued a statement confirming the incident, but did not offer any additional information.
It is unclear why the convoy was passing so close to a school in the first place. This might become an issue in Afghanistan, as NATO convoys are known to be a target, and going near a school effectively endangers the students.