In an interview Thursday President Trump revealed that neither date nor location of his planned summit with Kim Jong un has been  decided on yet. Three or four dates are under consideration, and there are five possible locations.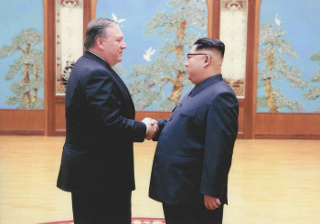 None of those dates or locations were revealed, but the plan is for the summit to take place in late May or early June. White House officials also say Trump may meet with South Korean President Moon Jae-in ahead of the summit with the North Korean leader.
Moon's government has played a big role in facilitating US talks with North Korea. This is expected to continue, and Friday morning Moon has his own historic summit with Kim in the demilitarized zone. This is expected to include talks about a denuclearization deal.
Newly confirmed Secretary of State Mike Pompeo also recently met with Kim to talk details on the summit. The White House revealed that Pompeo's visit was not originally intended to include a direct meeting with Kim, but that the two talks went on for over an hour.
Trump has come under recent criticism for praising Kim's recent diplomatic approach. While he has defended his own position, Trump today suggested the talks might not even take place, but that right now, they "want to meet."
Last 5 posts by Jason Ditz