Pentagon officials say they expect a renewed push by US forces and allies against ISIS in Eastern Syria in the coming days. This operation has been effectively on pause since Kurdish forces were redeployed further west to resist the Turkish invasion.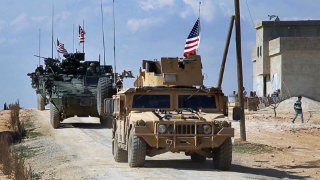 Despite Turkey's threats, they've done little to the Syrian Kurds in recent weeks. This has allowed the YPG to start returning some of the forces they sent to the Euphrates River Valley, where ISIS forces are still operating out of the desert.
The US mostly allows the YPG forces to handle fighting on the ground, providing air support. Finding ISIS forces in the desert may be a difficult matter, as they have gone into hiding since offensives took the last of their towns in the area months ago.
US officials tried to convince Turkey to hold off on the invasion of Kurdish territory specifically because of ongoing fights with ISIS. Given that, it is unsurprising that the Pentagon would want the returning Kurds back to fighting ISIS in short order.
Turkey has promised to eventually take over all of the YPG's territory, which includes the entire northeast of Syria. The Kurds hold about 25% of Syria, and US forces in the country are all embedded within Kurdish territory.