The Yarmouk refugee camp in southern Damascus is once again the site of heavy fighting in Syria, as the military attempts to advance, and airstrikes pound the surrounding area. The area is held by Islamist factions, including ISIS and al-Qaeda militants.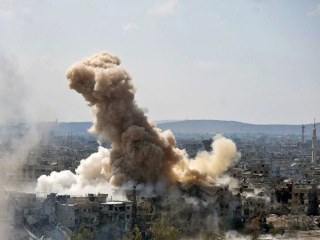 Yarmouk is a Palestinian refugee camp, and has faced several battles throughout the war. The refugees themselves are mostly long gone, many fled to Lebanon early in the war. Those that remain have often ended up in the crossfire, and the UNRWA spokesman again reported the camp is "like one of the lower regions of hell."
Syria is close to having recovered all of the areas within the vicinity of Damascs, and most rebels are evacuating. The Islamists in the south, however, are dug in and rejecting talks so far. Syria gave them 48 hours to surrender on Thursday. They did not, and the fighting picked up throughout the weekend.
There are several towns around this area which are still under the control of those militants. As with fighting elsewhere in metro Damascus, like the push into Ghouta earlier this month, retaking all that area could be long, and involve a lot of clashes.