One day after South Korean media broke the story, a top government official has confirmed that South Korea, North Korea, and the United States are all in discussions about a formal ending to the Korean War. The Korean War began in 1950, and other than an armistice, is still ongoing.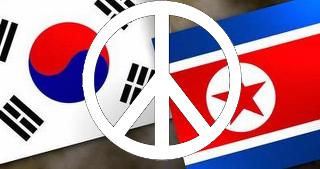 National Security Adviser Chung Eui-yong, who has taken a high-profile position in several recent diplomatic meetings, says there have been "in-depth discussions" on working toward peace. He confirmed that he'd recently talked to his American counterpart, John Bolton, about the possibility of peace.
An end to the conflict would be historic, because the Korean War isn't just an on-paper remnant of a conflict generations ago. This conflict has threatened to reemerge several times in recent years. The presence of over 30,000 US troops on the border has meant America is always a step away from a huge, devastating conflict on the Korean Peninsula. Such a conflict could lead to world-wide nuclear devastation.
The White House appears to be on board, too, with President Trump confirming that South Korea has his blessing to end the war. This is not only under discussion, but a step in that direction may be something to announce during the summit between Kim Jong-un and President Moon Jae-in. A bigger announcement would be hard to imagine, and would ensure the historic summit goes down as a success.
Chung not only confirmed that the Kim-Moon summit would be dealing with this, but that South Korea would also try to set the stage for the Trump-Kim summit, and a denuclearization deal.
White House officials added, amid confirmation of their support for peace, that they've been holding very high level direct talks with North Korea. They did not elaborate, but reports have CIA Director and Secretary of State nominee Mike Pompeo having made a secret trip to North Korea to meet Kim.
This serious prospect of peace is a testament to how much diplomatic progress has been made so far in 2018, with North Korea having gone from a pariah nation to pursuing a number of important diplomatic avenues. In addition to the Kim-Moon summit, they also have a Kim-Trump summit planned for May or early June.
Substantial progress has been made on other avenues as well. The US is reportedly considering opening an embassy in North Korea. On Friday, the hotline between North and South Korea is scheduled to be turned back on.
North Korea has broached the subject of ending the war for years, but never before was it given any credence. Now, it seems not only credible, but a next logical step in the diplomatic process.
In addition to being another huge step forward, peace in Korea would presumably end the demilitarized zone, meaning that the zone would go back to the two respective nations, with the boundary at the truce village.
Peace is a high priority in both North and South Korea, as the resumption of the war in earnest would destroy much of both nations. The two sides have been steadily increasingly their armament throughout the conflict, and are armed to the teeth.
Another key goal for North Korea would be the end of US threats to attack them. Though the US threats have reduced markedly in recent months, peace presumably would all but end talk of a unilateral US  strike, and could set the stage for a deal withdrawing US troops from the area.
That would presumably be done in return for the primary US goal, North Korea abandoning its nuclear weapons program. North Korea's rapidly advancing program, with missiles that could conceivably reach US soil, raised serious concerns.
North Korea has always said the only reason they need nukes is to deter a US first strike. Peace greatly reduces that risk already, and makes a deal very achievable. This would be a real peace dividend.
Clearly, finalizing a peace treaty would take some time, after 68 years of war. There is so much to be gained, however, that it seems set to be a major focus of bilateral diplomacy going forward.