CIA Director Mike Pompeo had an unlikely destination for Easter weekend: Pyongyang. Pompeo reportedly made a top secret trip to North Korea that weekend to meet with Kim Jong-un, amid preparations for a direct Trump-Kim summit.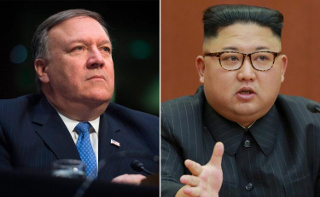 The news of the visit came just hours after the White House had confirmed "extremely high level" talks with North Korea. This is about as high level as it gets, as Pompeo is not only CIA Director, but the Secretary of State-nominee.
Officials are refusing to publicly speak on the Pompeo visit, saying they don't comment on secret CIA Director travel. Trump has suggested his summit will be in early June, and five locations are under consideration.
Previous reports indicated that the US-North Korea talks were being coordinated through the New York office, where North Korea has diplomats for the UN. A visit by one of Trump's favorite cabinet members to North Korea is clearly a much higher level of discussion.
This is the highest-level US visit to North Korea since 2000, when Madeline Albright met with Kim Jong Il. It is the first time Kim Jong Un has been reported to have met with a US official.