Hosting the Qatari Emir on Tuesday, President Trump has declared the Qataris to be "a very big advocate," praising them as a key ally in the war on terrorism. This is a major step, as only last year President Trump was accusing Qatar, a long-standing US ally, of funding terrorism.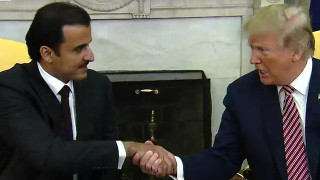 The emir appeared not to appreciate the way Trump presented their alliance as sudden, insisting his nation has been cooperating with the US against terrorism funding all along. Trump's changing view of Qatar is likely reflective of regional needs.
The US focus right now seems to be scrambling to ready a US-led, coalition attack on Syria, and the major US base at Qatar, the headquarters of US Central Command, would play a major role in any new US war in Syria. Trump's past alienation of the Qataris could have been something of an obstacle to that, particularly with the Saudis, who have positioned themselves as hostile to Qatar, likely to join the war.
Trump insisted during the Tuesday comments that his efforts at unity in the Gulf region is working out very well. In somewhat related news, the Saudi government is considering building a canal to turn Qatar into an island, and surround that with nuclear waste.