Saudi Crown Prince Mohammed bin Salman's visit to France has him right in the middle of negotiations of a US-led coalition to attack Syria. The prince confirmed at a news conference that the Saudi military could be involved in this operation.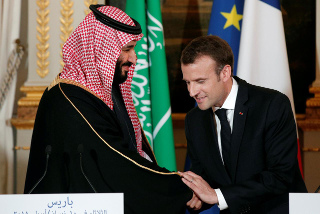 "If our alliance with our partners requires it, we will be present," Prince Mohammed confirmed. Saudi Foreign Minister Adel al-Jubeir also confirmed that discussions are ongoing with a number of different countries about the operation.
Jubeir said that the Saudi position is that Syria must be "held accountable," over allegations of chemical weapon use. The Saudis have been backing regime change in Syria for years, so this position is unsurprising.
France is urging the world to give the Saudis a chance, but the prince's comments left it sort of vague if the Saudis even want direct involvement in a new Syrian War. They may feel their military is too busy with the Yemen War, or may be holding out for some further concessions on that war's crimes in return for their participation in the new coalition. Previous Saudi involvement in Syria has mostly centered on funding Islamist rebels.