Administration officials say that President Trump will soon announce his decision on a response to Syria's alleged chemical weapons attack. All signs point to Trump ordering military action against the Assad government, and everything said by officials today underscores that.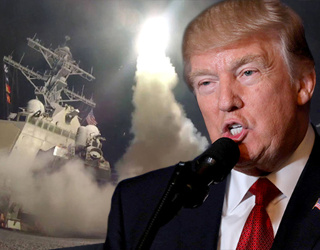 President Trump even suggested that the US might take measures against Russia over the attack, as other administration officials try to blame the Russians for the attack. Trump told reporters that Russia, Syria, and Iran may all "pay a price," and that the US will ensure "everybody will."
In April 2017, similar allegations of a chemical attack, with a similar lack of concrete evidence, was used as a pretext for a US tomahawk missile attack on Syria. US officials have indicated for weeks they were looking at carrying out something along those lines, but bigger, and this allegation seems tailor made for a public excuse.
Russia has warned the US against a hasty military action on Syria, saying there would be grave consequences. Trump's comments today, however, suggest that he may be advancing toward a military confrontation with Russia at any rate.
The National Security Council was scheduled to meet earlier Monday, and officials suggested Trump would make his decision by Monday night. No public announcements were made as of Monday evening on specifics, but comments out of the administration still suggest officials are leaning toward aggressive military action.