Last week's evacuation of the last rebels from Eastern Ghouta appears to be back on, with negotiators reporting an agreement was reached for Jaish al-Islam to resume its exodus from the last rebel-held city in the area, Douma.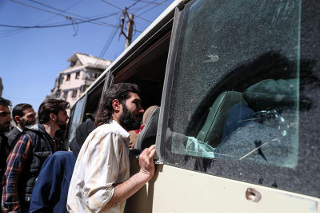 Jaish al-Islam had been withdrawing from Douma up until Thursday, when buses sent for the evacuation returned empty. Many of the rebels still there reportedly opposed leaving at that point. This led to a new Syrian military offensive and intense airstrikes, which led to new talks and a new deal.
The new deal will see the rebels headed to Jarabulus, which is under the control of Turkish forces. The Jaish al-Islam rebels also reportedly agreed to free a number of hostages that they've been holding as part of the deal, the first batch of which was let go Sunday.
Russian military police are said to be dispatched into Douma to enforce the agreement, and the ceasefire that goes along with it. The Jaish al-Islam forces are expected to move to Jarabulus over the course of the next few days.