A Wednesday phone call between President Trump and Israeli Prime Minister Benjamin Netanyahu was quite tense, according to US officials familiar with the situation. Netanyahu had loudly objected to Trump's talk of withdrawing US troops from Syria.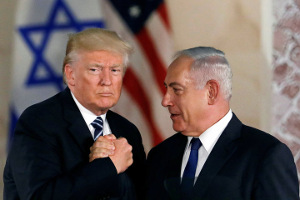 Netanyahu has opposed the US troops leaving Syria, arguing that it would leave the nation to Iran. The US military operation in Syria, however, is not aimed at fighting Iran in the first place, and rather is meant to fight ISIS.
Officials indicated that Trump's plan was to have all US forces out of Syria within six months, a detail officials previously had not provided. The White House has since indicated the pullout is not happening, and Netanyahu has praised Trump for his "commitment to Israel's security."
In addition to his own administration resisting his impulse to withdraw from Syria, Trump appears to have faced opposition from foreign allies. In addition to Netanyahu, the Saudi Crown Prince also expressed opposition to the ending of the war.