The Pentagon appears to have affirmed speculation that President Trump's calls for a withdrawal from Syria have effectively been overruled by the rest of his administration. Officials say that the US policy on fighting in Syria remains wholly unchanged.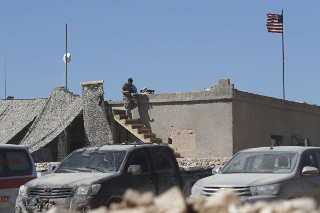 Trump announced last week during a rally in Ohio that he wants to withdraw troops from Syria very soon. He indicated earlier this week that he wanted to bring the troops home, though by Wednesday the White House was backpedaling on this, saying troops would stay.
Trump's advisers had tried to present this as an "alternative" to the pullout, where troops stay until the small ISIS presence that remains is eliminated. As the Pentagon confirmed, this isn't really a change at all, so much as a continuation of the status quo.
Pentagon officials say that not only has nothing actually changed, but that there is no timeline for leaving the country, meaning this is not a temporary extension of the war, but a complete abrogation of the pullout plan.
The officials further added that they have always envisioned the US presence remaining the same until "finality" against ISIS. There is no idea how long that will take, and US forces have largely not fought ISIS in recent weeks anyhow, instead focusing on building up defenses in Manbij against a Turkish invasion.