Between the Israeli gunfire at the border on Friday itself, and other incidents, at least 21 Gazans have been killed in the past week. This centered around week one of the Land Day protests, but many are expecting that the violence around the protests could get more severe as the weeks go on.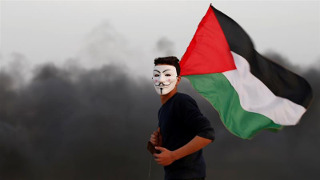 This Friday's protest, dubbed the "day of tires," has both Hamas and the Israeli government threatening responses beyond simple border protests, and the bloody cracking down on such protests, Israeli officials have indicated that the use of live fire on demonstrators was needed to defend the border fence.
Israel's far-right government has tried to position its killing of protesters as "self-defense," while portraying them as terrorists. Israeli military officials are expressing growing concern that the policy could backfire, saying they aren't confident that they have the crowd control capacity to deal with tens of thousands of Gazans if they force the issue.
International calls for restraint don't seem to be garnering much interest, especially since the US blocked a UN effort earlier this week that expressed support for the right to peaceful protest, and Israel's position is that the international community should do something to prevent the "provocative" protests.
Whatever happens Friday is doubtlessly not the end-game, either, with the Land Day protests expected to last six weeks. It could, however, set the stage for what is to come, especially if the civilian death toll is precipitously higher than the previous week.