With more US troops arriving in the Syrian city of Manbij in recent days, more and more troops are setting up front-line positions around the city, fortifying the area in anticipation of a threatened invasion by Turkey.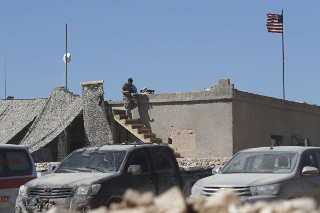 US troops at the front-line had previously been little more than a single house with a US flag on it, surrounded by the Kurdish YPG. Now, US and Kurdish forces have sand barriers and barbed wire positions, new watch tower and armored vehicles.
Turkey intends to seize Manbij, and has said they will do so even if it mans going through US and British forces deployed in the city to back up the Kurds. The standoff continues, with repeated threats but no sign that fighting is imminent.
The timing is also interesting, as in the week since President Trump began talking withdrawal form Syria. In that time, a substantial number of new US special forces arrived in Manbij, and now they are setting up positions along the front line, digging in for combat, and showing no signs of leaving.