Being North Korea has historically meant never having to say you're sorry. With diplomatic rapprochement rapidly progressing, however, blocking South Korean journalists from a Pyongyang concert at which South Korean K-pop artists performed proved a bit of an embarrassment.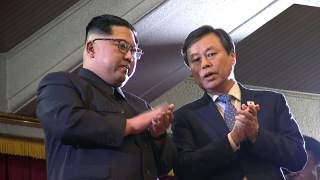 South Korea complained, and North Korea quickly and directly apologized. Gen. Kim Yong-chol not only declared that it was "wrong" to block free media coverage of the concert, he actually went to the hotel where the reporters were staying and apologized to them personally.
The concert, attended by Kim Jong-un, was a great success, and enjoyed by Kim and the other attendees, and clearly keeping the South Korean journalists away was a mistake. Having reporters there to cover another cultural exchange would only have been a good thing.
The apology, however, may prove an even bigger deal than the concert, showing a North Korea that no longer is determined to stand by their moves, even their mistakes. A willingness to apologize may position North Korea quite favorably going into upcoming high-profile summits.