With the battle for Eastern Ghouta effectively over, the Syrian government is shifting its focus eastward, into the Qalamoun mountains, where small numbers of rebels remain about 40 km away from the capital city, in the area not far from the Lebanese border.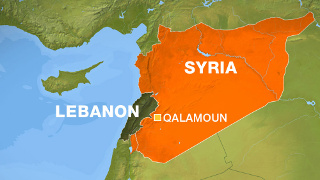 Syrian and Russian forces issued a public ultimatum on Tuesday over the area, saying that the rebels need to either accept state rule or leave. The rebels aren't very public, so written ultimatums were delivered to local civilian leaders to pass on.
Most of the rebels in the Qalamoun mountains already evacuated in previous deals with the government. Such deals saw rebels sent to Idlib Province, and rebels let Shi'ite civilians out of villages in Idlib.
It's not clear how much of these groups are even left in the mountains, but as the last even nominally rebel-held area anywhere near Damascus, resolving the situation would underscore that the Assad government has a secure handle on their heartland.