New details emerged Monday on a recent phone call between President Trump and Russian President Vladimir Putin. The Kremlin revealed, and the White House later confirmed, that Trump suggested a summit between the two at the White House.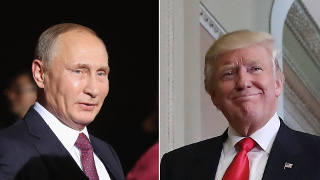 Such a meeting would normally be trivial, as US presidents have always hosted myriad Russian officials during their terms in office. The Russia election hysteria, and the mounting "new Cold War" rhetoric, however, have made even innocuous official contact with the Putin government politically risky.
White House Press Secretary Sarah Huckabee-Sanders tried to downplay the offer, saying that the White House was just one of a number of potential locations they proposed meeting. It's not clear what other locations were discussed, but any meeting at all trying to improve bilateral ties would be a positive sign.
US relations with Russia are at their worst since the height of the Cold War, and some officials are suggesting it's worse than they ever remember. Such a situation would've normally meant a scramble for such talks to try to avoid things getting out of hand, but these days the expectation for many seems to be that the situation should keep getting worse, and more dangerous.