A little over a week ago, a car bombing killed 20 civilians outside a sports stadium is Lashkar Gah. This is an unfortunately common thing to happen in Afghanistan, but appears to have started something very unusual: peace protests.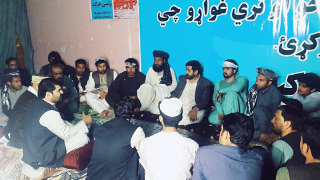 Two Helmand Districts, along with multiple Afghan cities, are reporting hundreds of demonstrators holding sit-ins at several sites, calling for an immediate ceasefire and peace talks between the Afghan government and the Taliban.
Some of the early protesters organized a hunger strike amongst themselves, saying they won't eat until there's at least two days of ceasefire. It's not clear how big a portion of the demonstrators are hunger strikers, but there seem to be a number of them in Helmand Province.
The Taliban has acknowledged the peace protests already, issuing an initial statement saying that protesting the Taliban wouldn't do any good, and demonstrators should instead protest at US bases, since it is the US that is keeping the war going.
The US invaded Afghanistan in late 2001. While the Taliban has expressed openness to peace talks in recent months, the US has said they are no longer willing to talk at this time.
Last 5 posts by Jason Ditz