Over the course of Sunday, ISIS has carried out multiple attacks against pro-government forces in the Syrian border town of Abu Kamal, along the border with Iraq. The Syrian Observatory for Human Rights is reporting 19 pro-government fighters were killed.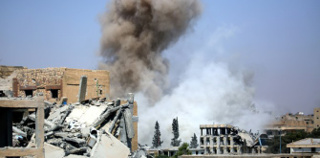 Abu Kamal was one of the last towns still under the control of ISIS during the invasion of Deir Ezzor Province, and ultimately fell to Syrian troops. The border area is held by Syrian troops with the help of pro-government militias.
ISIS now controls next to no territory of value, with the Observatory putting the figure at "less than 5%." The group still has a substantial number of fighters, however, and a will to carry out attacks. This is in keeping with expectations that, absent territory, ISIS would return to insurgency tactics.
There have been intermittent claims of ISIS trying to reform and recapture some of its lost territory, but so far there is no sign they are even close to doing that. They did, however, capture a district near the capital city of Damascus in a surprise attack last month, and while they're not expected to hold it, they're going to be cropping up here and there for some time to come.