Following Thursday's announcement by French President Emmanuel Macron that he is sending special forces to the Syrian city of Manbij to back up the US-led coalition, including Kurdish YPG, against potential Turkish attacks, Turkey is threatening France.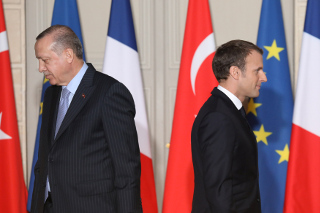 Turkish officials declared Macron's announcement to be the "completely wrong approach," and to amount to support for terrorism. Deputy PM Bekir Bozdag added that France would "become a target of Turkey" if they keep cooperating with the Kurds.
This adds yet more complexity to the situation around Manbij, and marks just the latest in a series of threats by Turkey to attack other major NATO member nations inside Syria. Turkey has been vehemently anti-Kurdish, and has been demanding the US stop backing them for years with similar threats.
The threats are a lot more immediate now, however, with Turkey and its allies in the Free Syrian Army (FSA) preparing to attack Manbij. In addition to the Kurds in Manbij, the US and Britain both have troops within, as well as French troops en route.
That puts four heavy-spending NATO members in close proximity, with one of them clearly spoiling for a fight against the other three. Though clearly there are very good reasons for Turkey not to start this fight, they have invested heavily in the rhetoric of this attack against Manbij being part of a war on terror, and show no signs of backing away from that narrative.