Al-Qaeda in the Arabian Peninsula (AQAP) has a broad presence around rural Yemen, but it's relatively rare recently for them to come near the cities to engage with the military forces therein. This did happen today, however, when AQAP attacked a military checkpoint near the Yemeni city of al-Mukallah.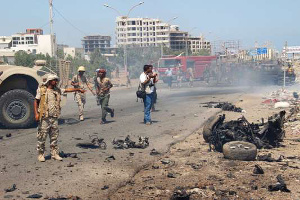 The checkpoint was manned by a local faction aligned with the Saudi invasion forces. The AQAP forces attacked the site overnight on Wednesday and into Thursday morning, killing at least nine of the soldiers, and wounding four others.
Five people were also reported to have been killed in a gunfight outside the city, who were labeled suspected AQAP fighters. There was no statement from AQAP as to why they launched this particular site, or what their own estimate of casualties were.
AQAP did, however, control the city of al-Mukallah briefly a couple of years ago. In the period immediately after the Saudi invasion, attacks on the southern port city of Yemen forced the Houthis to shift defenses away from the coast, and AQAP seized Mukallah and several other coastal towns unopposed. Though pro-Saudi forces eventually retook some of them, AQAP still controls a lot of areas that were seen as lower priority.