Following a meeting of Turkey's National Security Council, President Recep Tayyip Erdogan issued a statement threatening to attack the Syrian city of Manbij unless Kurdish forces immediately and unconditionally withdraw.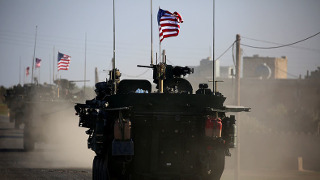 They has been demanding the Kurdish YPG withdraw from Manbij since they captured it from ISIS, on the grounds that it is on the western shore of the Euphrates River, and Turkey doesn't allow Kurds west of the river.
The US backed the Kurds in taking Manbij, however, and US forces are still embedded in the city. This was meant to dissuade Turkey, a fellow NATO member, from attacking. Erdogan, however, insists Turkey won't hesitate to attack the city, even if it means a military confrontation with the US.
In recent weeks, Turkey and the US agreed to try to find some arrangement on the city. The US, however, seems to believe that's negotiations, while Turkey seems to expect the US to somehow expel the Kurds unilaterally, something they are neither able, or likely willing, to do.