Monday's surprise arrival of a North Korean train in the Chinese capital of Beijing raised speculation that Kim Jong-un had made his first overseas visit ever. This proved to be the case, with Chinese media showing footage of Kim meeting with China's President Xi Jinping.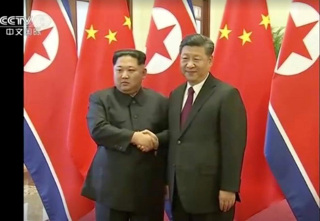 The two had what was described as a "friendly visit," with China affirming continued friendship with the North Korean government. Chinese officials also reported that Kim pledged the denuclearization of the Korean Peninsula.
This comes in the lead-up to Kim's upcoming summits with President Moon of South Korea, and President Trump. Though China is calling it an "unofficial visit," they likely want to get in on the historic diplomatic progress being made by having this be Kim's first overseas visit since taking power in 2011.
China followed up the visit by communicating with the White House, offering them a briefing of the discussions with North Korea, and a personal message from President Xi  to President Trump. Kim was said to have told Chinese officials he wants to maintain "our great friendship."