Early Monday, the US announced a surprise series of expulsions described by Ambassador Jon Huntsman as the largest in history. The expulsions are just the latest sign of worsening diplomatic relations and a growing new Cold War.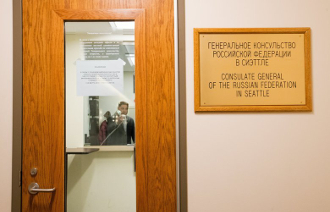 Such a big move virtually obligates Russia to retaliate, and the Kremlin says President Putin will be deciding the specifics of the retaliation, for both expelled officials and a closed consulate in the US, shortly.
Russian Senator Vladimir Dzhabarov, a high-ranking member of the International Affairs Committee, says that he's been told that the retaliation will include the expulsion of at least 60 staff from American diplomatic missions across Russia.
In addition to the US moves, nominally retaliation for a poisoning of a former spy in Salisbury, 18 EU nations (see below) also took action against Russia diplomatically. Canada was among the first non-EU nation to join in on the action, and now 25 Western nations are expelling Russians. Two EU nations, Austria and Slovakia, have both been public in that they're definitely not going to expel any Russians.
While Britain has been insistent on Russia being behind the poisoning, there is as yet no proof to back this up. There is testing ongoing on the substance used which may offer some clues, but results aren't expected for at least 2-3 more weeks.
That means these new moves are being done entirely on the assumption that Russia will be implicated. Eagerness to keep ratcheting up tensions with Russia, however, seem to be driving such measures irrespective of evidence, and with little worry about the consequences if they are wrong.
Expulsions:
Albania – 2
Australia – 2
Belgium – 1
Canada – 4
Croatia – 1
Czech Republic – 3
Denmark – 2
Estonia – 1
Finland – 1
France – 4
Germany – 4
Hungary – 1
Ireland – 1
Italy – 2
Latvia – 1
Lithuania – 3
Former Yugoslav Republic of Macedonia– 1
Moldova – 3
Netherlands – 2
Norway – 1
Poland – 4
Romania – 1
Spain – 2
Sweden – 1
Ukraine – 13
United States – 60