An unannounced but potentially hugely positive diplomatic event is taking place Monday, as North Korean leader Kim Jong-un has reportedly arrived in Beijing on a train, accompanied by unusually high amounts of security.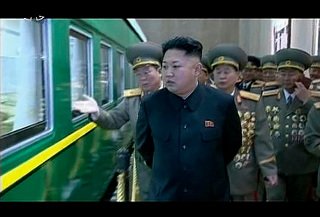 This marks Kim's first time traveling outside of North Korea since taking power in 2011. It's not been confirmed why he is in Beijing, but it is presumably for a very high-level discussion, pointing to yet more major diplomatic progress.
North Korea has made great strides diplomatically in recent months. Kim is scheduled to meet South Korean President Moon Jae-in in April, and President Trump in May. Meeting China's President Xi, or other top Chinese officials, would be another huge deal, because despite Western preconceptions, North Korea and China aren't always on the best of terms. Even Japan has looked to get into the mix, with suggestions the Abe government would also seek a summit.
That the visit is happening at all was only revealed by images emerging of the North Korean train, folowing by speculation, and later some comments from anonymous officials to media outlets. As Kim has never visited China in this capacity, there appears to be no established protocol for this, and the Chinese Foreign Ministry is so far not offering any details on what's happening.
Even with this lack of information, it's hard to imagine such a visit would be anything but an extremely positive sign, another example of North Korea looking to engage with the outside world, and finding nations at least somewhat receptive.