As the weekend nears, the Syrian military is approaching a complete victory in the Damascus suburb of Eastern Ghouta. Douma is effectively the last city still under total rebel control for awhile no agreement remains on withdrawal.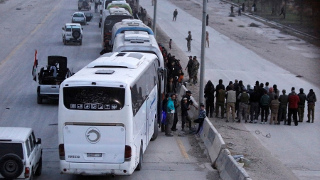 On Friday, rebels were withdrawing from Harasta, as part of a ceasefire deal reached with Russia. Later in the evening, rebels reported agreed to withdraw from Arbin, Jobar, and the other areas in the district's far south.
Civilians continue to flee from Douma, but the rebels themselves remain dug in, and Syrian and Russian warplanes continue to carry out airstrikes against the city. There is no word of negotiation on a formal withdrawal from Douma.
A month ago, Eastern Ghouta was the last major rebel-held territory near the capital. In the course of the ongoing offensive, the Syrian military has retaken the overwhelming majority of the territory, limiting rebel access to the capital.