An ISIS suicide bomber infiltrated a crowd of people near the Karte Sakhi shrine in the Afghan capital city of Kabul, detonating among a group of teenagers, and killing dozens. The most recent figures are 32 killed and over 50 wounded, but the tolls are still rising.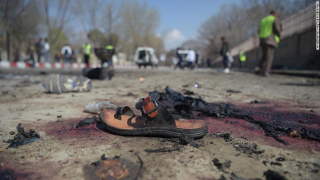 The shrine was crowded because of Nowruz, the Persian new year holiday, during which large numbers of people in Kabul go to the shrine. ISIS said the attack was targeting Afghanistan's Shi'ite minority, as many of their attacks in Kabul do.
This comes amid concerns that security for the holiday was insufficient around the capital, though the Afghan Interior Ministry insisted they believed they had things well in hand. Clearly, they were unable to prevent this large bombing, though officials say they did manage to keep the bomber closer to the shrine, where they might've killed even more.
This strike also comes amid a visit by US Joint Chiefs Chairman Gen. Joe Dunford's visit to Afghanistan, and reports from top US military officials saying that security in Kabul is a primary focus of he military operation. This once again underscores just how poor security is, even in a priority area.