An airstrike Wednesday against the village of Kafr Batikh, in the rebel-held Idlib Province of northern Syria, is reported to have killed a large number of civilians. 20 civilians were said killed, and 16 of them were children, according to rescue workers.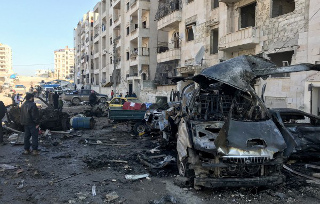 It is unclear what nation carried out the strike, or what their intended target was. An earlier strike reportedly hit a school housing displaced persons, and the people killed in the later airstrike were fleeing from the previous attack.
The identities of the victims are not clear. The Syrian Observatory for Human Rights reported that 15 of the slain were members of the same family. This again suggests they were displaced people who'd been housing in the school.
Idlib is the largest remaining rebel-held territory in Syria, with the military having taken some of the province's southern reaches, but most still in the hands of different rebels. As Syria raps up fights against rebels elsewhere in the country, particularly in Eastern Ghouta, Idlib is likely to become a growing focus for them.