SJ Res 54, the Senate's War Powers Act challenge to the US military involvement in the Yemen War, was killed Tuesday by the Senate, meaning it will not get a direct floor vote. The bill noted that Congress never authorized the Yemen War, and would've compelled the US to withdraw its participation. The vote was 55-44.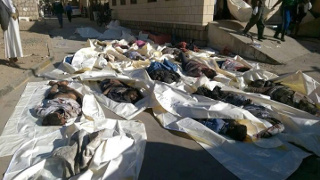 The bill did finally manage to get some movement in the Senate earlier on Tuesday. In what Sen. Bernie Sanders (I-VT), one of the three co-sponsors, called a cowardly move, however, the Senate never voted on the bill itself, instead voting to "table" (i.e. kill) the bill without allowing a vote.
The bipartisan bill was presented by Sen. Sanders, along with Sens. Chris Murphy (D-CT) and Mike Lee (R-UT). The vote to kill it was largely split on party lines, however, with few Republicans resisting the leadership . Sen. Bob Corker (R-TN) led to vote to kill the bill, arguing it would lead to a "Wild West debate."
The Trump Administration loudly resisted the bill, arguing that Saudi Arabia would be mad if the US withdraws. The Saudi crown prince, Mohammed bin Salman, is in Washington D.C. this week, and met with a number of high-ranking senators before the vote.
Opposition to the Yemen War rests heavily on the massive number of civilians killed in Saudi Airstrikes. That the US involvement was never authorized by Congress was another big issue, though this was the first attempt by the Senate to actually challenge a conflict over War Powers Act violations.
Still unauthorized, the war remains illegal under US law, despite the bill being tabled. It is not clear if there will be any more legal challenges any time soon, though the 55-44 vote does suggest growing opposition to the conflict. Even there, however, some of those who opposed tabling the bill were not expected to support the bill itself, if it had been given a floor vote.