ISIS forces have made a surprise return to metro Damascus over the past 24 hours. Reports indicate that al-Qadam, just south of Damascus, has fallen to ISIS fighters after an intense battle with Syrian soldiers.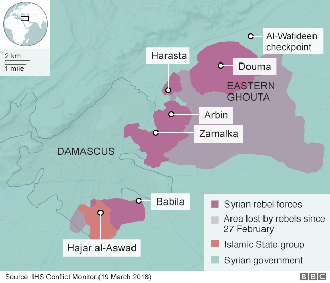 Al-Qadam was held by the rebels until last week, when facing a push by the military they abandoned the area. The Syrian Army got into the district for awhile, but were quickly displaced when ISIS fighters poured into the area.
The Syrian Observatory for Human Rights reports 36 Syrian soldiers killed in the last 24 hours. They did not report ISIS casualties. The Syrian government has not offered any report at all on the incident, which isn't uncommon for what was apparently a surprise defeat.
ISIS has contested areas around Damascus in the past at several times, but it's been quite awhile since they've seized a district outright. While the Syrian military had been focused on Eastern Ghouta, it's likely they will react quickly to any reforming ISIS.