US military involvement in the Saudi invasion of Yemen was never authorized by Congress. Three years into the conflict, this might actually matter, with the Senate set to vote on SJ Res 54, a War Powers Act challenge which would require the US to end involvement in the war.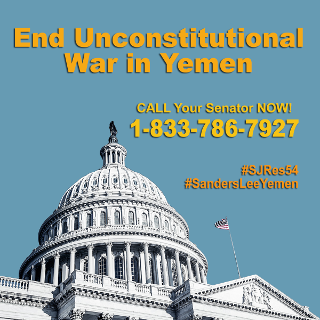 SJ Res 54 is enjoying growing support across the Senate, with high ranking officials like Sen. Tim Kaine (D-VA) coming out in favor of it. Sources say a vote on the resolution is scheduled for Tuesday.
During the war, US involvement has mostly centered around supporting Saudi bombing of Yemen, including targeting assistance and mid-air refueling of warplanes. US warships have also participated in the Saudi naval blockade, which has resulted in mass starvation in parts of the country.
Getting a vote is no small feat, despite the War Powers Act obliging floor votes on such challenges. An effort in the House last year was foiled, replaced with a non-binding alternative. This will be the first ever War Powers Act challenge in the Senate.
The Trump Administration has been scrambling to shore up support, arguing that the war isn't authorized, but not being in a war would be bad for US-Saudi relations. Saudi crown prince Mohammed bin Salman is in the US to do some last minute lobbying as well, meeting individual senators.
Though Salman and the Administration appear to believe this will sway the vote in their favor, it may actually do the opposite. That's because Saudi war-crimes in Yemen are increasingly concerning in Congress, and the prince's defense of the war is not very convincing.