Trump Administration officials have tried for the past two months to stall the Turkish invasion of Syrian Kurdistan, arguing that it "distracts" from the fight against ISIS. That ISIS is virtually defeated in Syria, by all accounts, meant Turkey didn't take this seriously.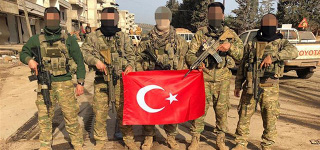 Now, the State Department is claiming that Turkey"s distraction has not only given ISIS an opportunity to recover, but that ISIS is "reconstituting in some areas." They didn't not provide any details on where this was.
Turkey's Foreign Ministry was quick to respond, calling the US claims "completely groundless." They added that US support for the Kurds is what actually undermines fighting terror, as Turkey considers the US-backed Kurds terrorists.
Turkey is downplaying the significance of their invasion and occupation of Afrin,saying their own troops won't stay in the district. The intention, rather, is to set up Turkey-backed rebels as the ruling force, allowing Turkey's military to invade more Kurdish territory.