An airstrike by Turkey's military hit the main hospital in the Syrian city of Afrin on Friday night, killing at least nine civilians, according to the Syrian Observatory for Human Rights. The Kurdish YPG confirmed the incident.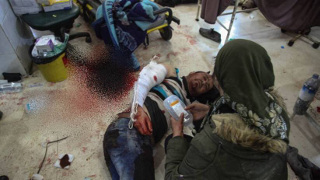 Turkey's Army issued a statement Saturday morning on the matter, insisting that no such attack happened, despite it being reported and confirmed by multiple sources. They insisted "only terrorists" are being attacked.
In addition to the attack, Turkey's Army also dropped laflets across Afrin, demanding that all the Kurds in the district surrender unconditionally and "trust the justice of Turkey." Turkey invaded Afrin in January, and has vowed to expand the war across Syrian Kurdistan.
Turkey's treatment of Kurdish detainees, who are virtually always labeled "terrorists," has not been great, which is probably informing the decision of a lot of the defensive forces in Afrin to continue resisting. Despite that, Turkey has taken most of the district, and the city itself is likely to fall as well.