The Syrian Army continues to gain ground in Damascus suburb area of Eastern Ghouta, with airstrikes and artillery killing dozens on Friday, and reports that the Syrian pro-government forces have control of about 70% of the region.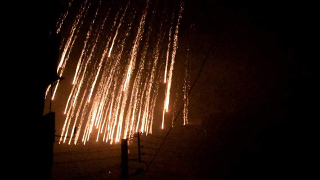 Local civilians are fleeing as best they can, but those trapped in combat situations are in considerable risk. The Syrian Observatory for Human Rights reported that cluster bombs were dropped on the Ghouta town of Kafr Batna, along with incendiary bombs.
The incendiaries are causing serious burns to a lot of civilians, but the cluster munitions are a long-term danger. Many cluster munitions hit the ground without exploding, and remain littering the region for years, inflicting new casualties all the while.
Russia is pushing for the rebels to surrender, but they have rejected the proposal. Rebel officials say that the terms for negotiation are rejected, though with the Syrian military rapidly taking more territory and thousands fleeing, they may not have much bargaining room to avoid surrendering or outright defeat.