Defense Secretary James Mattis made a surprise visit to Afghanistan on Tuesday, arriving at the Kabul Airport with little fanfare before offering rare public comments on the Afghan War. Mattis focused on what 'victory' would look like, and offered a glimpse into US strategy for achieving it.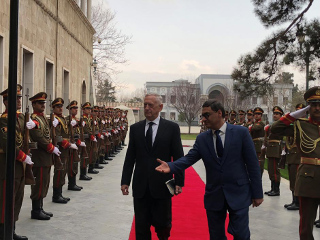 Mattis confirmed in his comments that any victory in Afghanistan would be "not a military victory." Rather, he sees victory coming in the form of political reconciliation. That's not going to involve major peace talks, however, as Mattis called that "a bridge too far," reflecting Trump's opposition to such talks with the Taliban.
Instead, Mattis suggested that the strategy would mirror something that's been tried repeatedly in Afghanistan, "peeling away" some Taliban factions by drawing them into talks. Mattis said the US has seen "interest" in such talks.
But the Taliban as a whole have repeatedly sought peace talks in recent weeks. It may be difficult for the US to do this strategy of peeling away more moderate factions when the whole faction is willing to come to the table, and makes it all the more obvious the "peel away" strategy is a trick to divide the Taliban.