According to a report in the Israeli press, officials from bot Israel and Saudi Arabia have been meeting secretly for some time in Egypt, with the Egyptian junta serving as a mediator in an effort to improve ties between the two.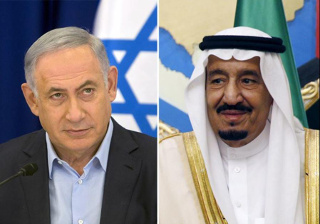 Palestinian officials, quoted as being familiar with the situation, suggested that the talks have been improving relations between the two countries, with Saudi Arabia no longer considering Israel its primary regional rival . That's not a good thing from their perspective.
As Saudi Arabia gets closer to Israel, they are less and less interested in ties with the Palestinian Authority, and officials are seeing the PA badly weakened by this improved Israel-Saudi relationship.
Saudi Arabia has been warming to Israel for some time now, as the two nations are both heavily invested in not liking Iran. This makes Egypt's attempt to bolster ties between the two somewhat simpler, while the Palestinians have to rely on support from nations with a less and less vested interest in the outcome of peace efforts being in some vague way "bad for Israel," which so far means they're not interested in the efforts at all.